ScarSil Silicone Gel for the Managment of Scars (Jobskin)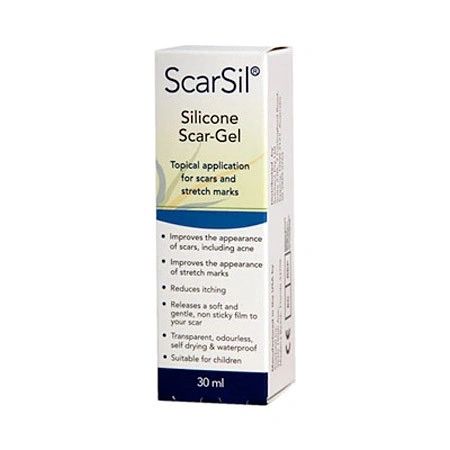 ScarSil Silicone Gel for the Managment of Scars (Jobskin)
ScarSil Silicone Scar-gel
is a popular topical application to treat problem scars, reducing discomfort and itching associated with scarring process. ScarSil Silicone Scar Gel offers an easy to use alternative to silicone gel sheets. Therefore making ScarSil ideal for for use on the face or joints.Other uses include treating problem scars such as
acne scars and stretch marks.
Clear odourless gel.
soothing effect.
Used for acne scars and stretch marks
Can be used under make up.
Waterproof
Directions:
Apply to your clean scar 2 to 3 times daily. Gently massage into skin.
Warnings:
do not use on open wounds. For external use only. keep out of eyes. If irritation or a rash appears discontinue use and consult a medical practitioner. Avoid contact with clothes and other textiles as silicone is not water soluble and may result in staining.
Ingredients:
97% Silicone-gel Siloxan, PolySiloxan per1% Vitamin C-derivative, Emu Oil, Squalen