Mesorb Leak Proof Cellulose Absorbent Dressing (Molnlycke)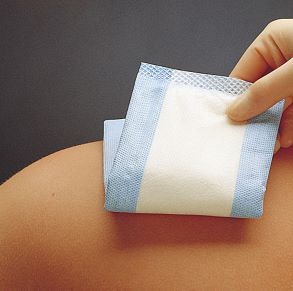 Mesorb Leak Proof Cellulose Absorbent Dressing (Molnlycke)
Mesorb is a soft, highly absorbent dressing that can retain large amounts of exudate. The fluid-repellent backing prevents external contamination of the wound and protects clothes and bed linen from exudate strike-through.

High absorption capacity and retension capacity
Fluid-repellent backing layer protects against exudate strike-through and keeps dressing dry
Designed for long wear time
Conformable and comfortable for patients
Mode of action:
Wound exudate is absorbed through the wound contact layer and transferred into the cellulose pulp core of Mesorb. The highly absorbent core absorbs exudate, and the breathable backing layer allows for moisture vapour transmission. The backing layer is folded over to the edges of the wound contact layer to minimise fluid leakage from the sides.
Areas of Use:
Mesorb is intended for use in moderate to heavily exuding wounds. Mesorb can be used as a primary dressing directly on the wound – or as a secondary dressing where high absorbency is required (e.g. over Mepitel or Melgisorb).