Mepilex Lite Thin Foam Dressing (Molnlycke)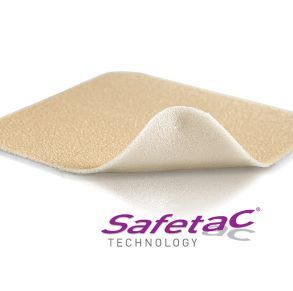 Mepilex Lite Thin Foam Dressing (Molnlycke)
Mepilex Lite is a thin foam dressing for low exuding acute and chronic wounds. Mepilex Lite dressings with Safetac minimise pain and wound or skin damage at dressing change. Mepilex Lite is very soft and conformable.
Use Mepilex Lite:
For low-exuding wounds
Wide range of acute and chronic wounds such-as foot ulcer, pressure ulcer, partial thickness burn, radiation skin reaction and epidermolysis bullossa
Less painful and less stressful care for your patients
When to use Mepilex Lite?
With Safetac, Mepilex Lite can be removed with a reduced risk of trauma to the wound or surrounding skin. Mepilex Lite is the ideal choice for all low-exuding wounds. For example low-exuding chronic wounds, such as diabetic wounds or leg ulcers. Mepilex Lite is the only dressing that is clinically proven to treat or even prevent radiothreapy induced skin reactions.
Mepilex Lite can easily be cut to fit an individual wound and is highly conformable. This makes it ideal for difficult-to-dress areas like armpits or under the breast. Mepilex Lite is a multipurpose dressing giving the patient less risk of trauma to the wound and less painful dressing changes. Use together with Tubifast fixation. For medium exuding wounds, see Mepilex in our product range.