Mepilex Heel Soft Comfy Foam Dressing (Molnlycke)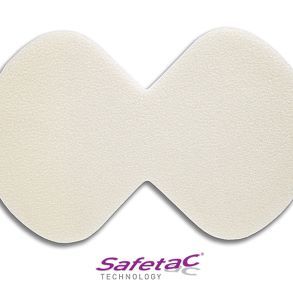 Mepilex Heel Soft Comfy Foam Dressing (Molnlycke)
Mepilex Heel is a shaped, soft and conformable foam dressing for wounds on the heel. Mepilex Heel is a shaped foam dressing, designed for heels and typically used onpressure ulcers. Mepilex Heel minimises pain and wound or skin damage at dressing change. Mepilex Heel is soft and conformable and will easily and comfortably fit the heel.
Use Mepilex Heel:
For exuding wounds on the heel or malleolus
Pressure ulcers
Diabetic foot ulcers
Less painful and less stressful care for your patient
Mepilex Heel is an absorbent heel dressing – designed for a wide range of medium to highly exuding wounds. Whether applied to the heel or malleolus, Mepilex Heel effectively absorbs which minimises the risk of maceration. With its
Safetac
interface, Mepilex Heel can be removed with less risk of trauma to the wound or surrounding skin. Safetac also prevents Mepilex Heel from sticking to the wound bed yet adheres gently to the surrounding skin allowing easy application of secondary fixation. When necessary, secure Mepilex Heel with
Tubifast Fixation.