Mepilex Border Lite Thin All-In-One Dressing (Molnlycke)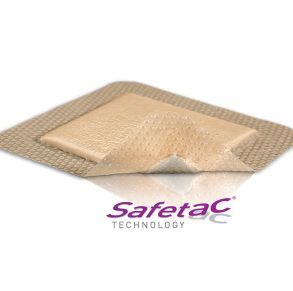 Mepilex Border Lite Thin All-In-One Dressing (Molnlycke)
To dress low-exuding chronic wounds such as diabetic foot ulcers
To dress acute wounds such as traumatic or post-operative wounds
To dress wounds on areas, such as the feet, toes, hands, fingers
To maintain a moist wound environment – giving the wound optimal conditions to heal
Mepilex Border Lite is a thin all-in-one foam dressing with Safetac® designed to create an optimal healing environment for low-exuding acute or chronic wounds such as diabetic wounds or post operative wounds.
Mepilex Border Lite dressings with Safetac minimises patient pain and wound or skin damage at dressing changes.
When To Use Mepilex Border Lite:
Mepilex Border Lite is an all-in-one thin foam dressing, designed for a wide range of low exuding wounds: chronic wounds like diabetic foot ulcers and pressure ulcers, or acute secondary healing wounds such as post-operative incisions or traumatic wounds (inc. sutured wounds). The soft, conformable dressing maintains a moist wound environment, which provides the wound with an optimal environment for healing. Healing in a moist environment may result in an apparent increase in wound size during the first days of treatment. This is normal and to be expected. Easy to live with, Mepilex Border Lite can be repositioned without losing its adherent properties.
Mepilex Border Lite is a dressing with Safetac which means less pain for your patients in dressing changes and removal. Mepilex Border Lite is easy to remove and reposition, leaving no residues in the wound or on the surrounding skin, and produces less odor. This makes Mepilex Border Lite an ideal choice for all low exuding chronic and acute wounds such as diabetic or traumatic wounds.