Mepilex Border Heel Foam Dressing (Molnlycke)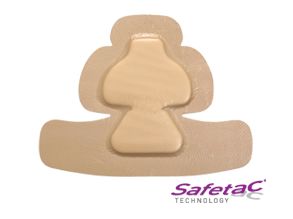 Mepilex Border Heel Foam Dressing (Molnlycke)
Mepilex Border Heel is an all-in-one foam dressing specifically designed to fit the heel. Its five-layer absorbent foam structure with Safetac, effectively absorbs and retains exudate, and maintains a moist wound environment. This makes Mepilex Border Heel an asset for the use in preventing skin damage and in the treatment of exuding wounds including pressure ulcers, diabetic foot ulcers, heel ulcers, traumatic wounds, and other secondary healing.
Mepilex Border Tailored for the heel

Mepilex Border Heel has been specifically developed to address wounds on the heel. The dressing is composed of a unique five-layer structure including unique Safetac adhesive technology and has been precisely shaped to ensure the dressing conforms to the heel. Managing wounds on the heel often proves difficult and sometimes requires clinicians to custom-cut dressings. Mepilex Border Heel is the fit-for-purpose solution, providing the necessary conform-ability and adhesive capability to allow for greater patient mobility while reducing the need for additional time to adapt dressing.
Safetac
Safetac is the adhesive layer of the dressing, which gently adheres to the skin without sticking to moist surfaces, minimising damage to the wound and the surrounding skin by sealing the wound margins thereby preventing exudate from escaping. This protects the newly formed tissue and promotes natural healing benefitting both patients and healthcare organisations alike by minimising trauma and pain, allowing for optimised healing, which will result in lower costs
.