Mepilex Border AG Antimicrobial Dressing (Molnlycke)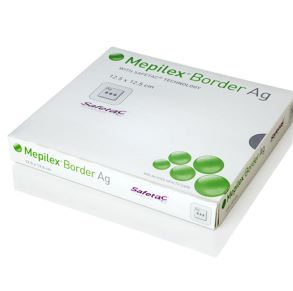 Mepilex Border AG Antimicrobial Dressing (Molnlycke)
When to use Mepilex Border Ag?

Mepilex Border Ag is an all-in-one antimicrobial foam dressing, designed for a wide range of medium to high exuding wounds showing clinical signs infection or at high risk of infection, such as pressure ulcers, traumatic wounds, and secondary healing wounds. The soft, conformable dressing maintains a moist wound environment, which provides the wound with an optimal healing environment. Dressings with seal the wound edges and thus minimise the risk of maceration.

As pain is one of the typical clinical signs of infection, most infected wounds are painful. Inflicting more unnecessary suffering to patients causes stress and is hard to justify. Mepilex Border Ag is a dressing with Safetac, offering less pain for patients at dressing changes and when repositioning the dressing. Mepilex Border Ag contains silver sulfate, and the antimicrobial activity of this silver technology helps to reduce bio-burden after 30 minutes, killing 99.9 per cent of a wide range of bacteria for up to seven days.
Use Mepilex Border Ag:
When antimicrobial action is indicated to help reduce bioburden in infected wounds
When antimicrobial action is indicated to act as an antimicrobial barrier in wounds at high risk of infection or re-infection, such as post-operative wounds
To obtain a rapid (after 30 minutes) and sustained (for 7 days) effective antimicrobial effect
To combine antimicrobial action with a less painful and less stressful patient care management program,