Freederm gel 10g Medicated Acne Treatment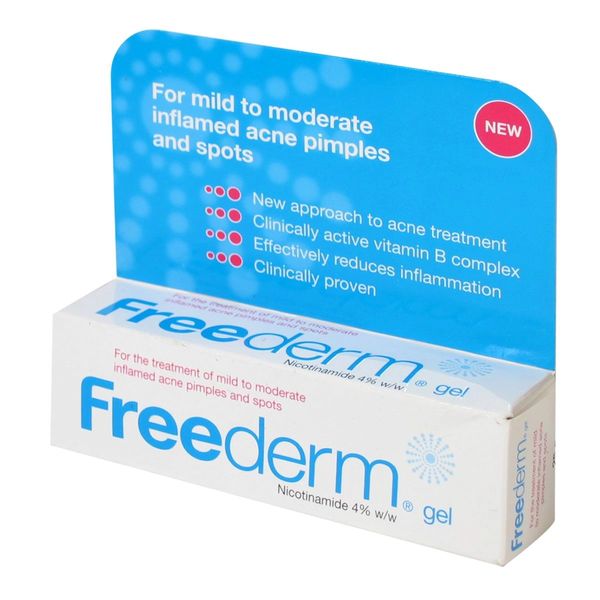 Freederm gel 10g Medicated Acne Treatment
Freederm Gel is a cooling translucent, fragrance-free topical gel. It's an anti-inflammatory spot treatment that contains a unique active ingredient - nicotinamide - which has been clinically proven to help get rid of inflamed spots. These are the ones that are reddish-coloured, usually tender, and sometimes have pus in them.
Freederm Gel works in a different way to other spot treatments you can buy, because it actually targets the process that causes the spots in the first place. It penetrates the skin to reach the sebaceous glands (which produce oil in your skin). By targeting this area with its anti-inflammatory action, Freederm Gel doesn't only deal with the spots that are already visible, but helps stop the spots that are just starting to form too. And thanks to its special hydro-gel formulation, you'll find that Freederm Gel is less drying than some spot or acne treatments.
The active ingredient Nicotinamide 4% w/w. Also contains aluminium magnesium silicate, hypromellose, citric acid, macrogol lauryl ether, ethanol, purified water.
Apply to the affected area and surrounding skin, twice a day, morning and night, after cleansing and gently drying with a clean, soft towel. When you apply the gel, spread a thin film of it as evenly as you can over the whole area where there are spots or acne. Make sure you read and keep the Patient Information Leaflet, which is in the pack. This will give you more useful instructions on how to get the best from your treatment.
Caution before using Freederm Gel:
Do not use in known case of sensitivity to any of the ingredients.
When using Freederm on your face, take care to keep it away from the eyes and mucous membranes, including those of the nose and mouth.
Keep out of reach and sight of children.
For external use only
You should carefully read all product packaging and labels prior to use
You should carefully read all product packaging and labels prior to use