DURAFIBER* Ag (Smith & Nephew)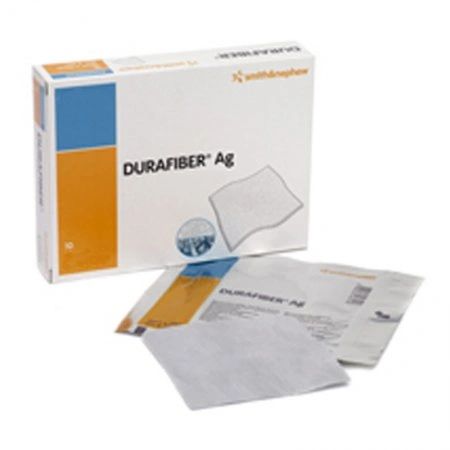 DURAFIBER* Ag (Smith & Nephew)
DURAFIBER Ag dressing are effective against infection.
Sustained release of silver for up to 7 days.
Starts to kill pathogens within 30 minutes of contact.
Provides broad spectrum antimicrobial activity at 4 hours against pathogens (shown in vitro vs.Pseudomonas aeruginosa, VRE, Bacteroides fragilis, Candida albicans and Rhizopus arrhizus)
Sustains antimicrobial activity for up to 7 days against a broad spectrum of bacteria including antibiotic resistant strains (MRSA, VRE, yeast, filamentous fungi wound pathogens)
Strength in Performance
The DURAFIBRE range is a new generation of high performance gelling fibre dressing designed to meet the many challenges posed by medium and heavily exuding infected and non infected wounds.
Specially designed with innovative fibre technology. DURAFIBRE features a unique non-woven fibre blend that is integral to its high performance.
This unique blend provides an exclusive combination of benefits that set DURAFIBRER dressings apart from conventional gelling fibre dresssings.
Clean one-piece removal
High wet strength and structural integrity
Low risk of fibre shed and dressing residue
Minimal pain and trauma for the patient on dressing removal
Effective exudate management
High absorption and retention apacity
minimal lateral wicking-helps protwct pen-wound skin against the risk of maceration
Locks in fluid and harmful bacteria-may help prevent the risk of cross contamination on removal.
Uncompromised patient comfort
Gentle conformable gel matrix
Helps promote patient concordance
Reduces dead space where bacteria may proliferate
Assured dressing efficiencies
Unique anti-shrinkage properties
Minamil shrinkage when wet - may help sustained coverage
maintains a favourable moist wound healing environment