Biatain Silicone Ag Foam Dressing (Coloplast)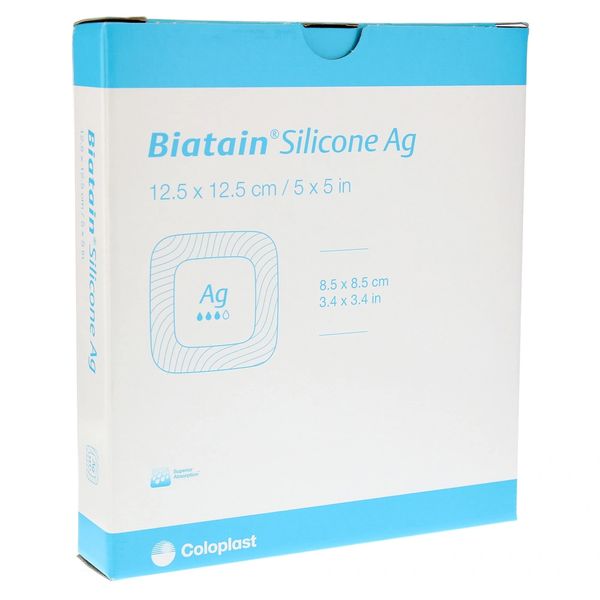 Biatain Silicone Ag Foam Dressing (Coloplast)
Biatain Silicone Ag Foam Dressing
Usage
Biatain Silicone can be used for a wide range of exuding infected wounds, including leg ulcers, pressure ulcers, non-infected diabetic foot ulcers, donor sites, postoperative wounds and skin abrasions. Biatain Silicone can be used in combination with compression therapy.
Impregnated with silver Ag to fight off bacteria
Unique 3D foam for superior absorption
When in contact with exudate, the unique 3D foam of Biatain Silicone conforms to the wound bed. The fluid handling properties of Biatain Silicone ensure optimal control of exudate thus minimizing the risk of maceration and leakage.
Secure fit
The silicone wound contact layer provides a secure fit to keep the dressing in place while ensuring minimal pain upon removal
Non-touch opening
Biatain Silicone has a 3-piece non-touch opening to allow aseptic and easy application and to reduce waste of dressings.
Soft, flexible and comfortable
The soft and flexible design of Biatain Silicone ensures a close fit to wound and body, and the foam pad at skin level makes Biatain Silicone comfortable to wear – even under compression.
Bacteria- and shower proof
The semi-permeable topfilm is both bacteria- and shower proof.
Mode of action
The unique 3D foam absorbs the exudate vertically and together with the lock-away layer it locks away the fluid within its structure, still leaving the wound moist to ensure optimal moist wound healing conditions.
Product composition
Biatain Silicone is a soft and conformable polyurethane foam dressing with a semi-permeable, water- and bacteria proof top film and a soft silicone adhesive