Atrauman AG Silver Dressing (Hartmann)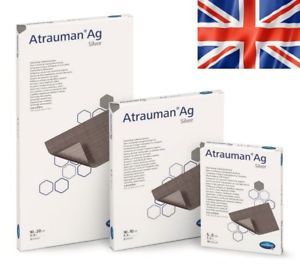 Atrauman AG Silver Dressing (Hartmann)
Atrauman
®

Ag

For the treatment of superficial, acute and chronic wounds of any type, as well as for complementary use in the treatment of infected wounds or wounds that show a high bacterial contamination.

Elemental silver has an antibacterial effect against gram-negative and gram-positive bacteria when they are in direct contact with the dressing. Impregnated with a neutral ointment, without additives of vaseline or other paraffins, Atrauman Ag is permeable to exudate, particularly soft and conformable. It does not stick to the wound and is effective during long-term use. Atrauman Ag is not cytotoxic and has an antibacterial effect for at least 7 days.

The ointment contains: Ester mixture of natural or vegetable fatty acids, bound as di- and triglycerides, Macrogol 2000.