ALLEVYN Ag Non-Adhesive (Smith & Nephew)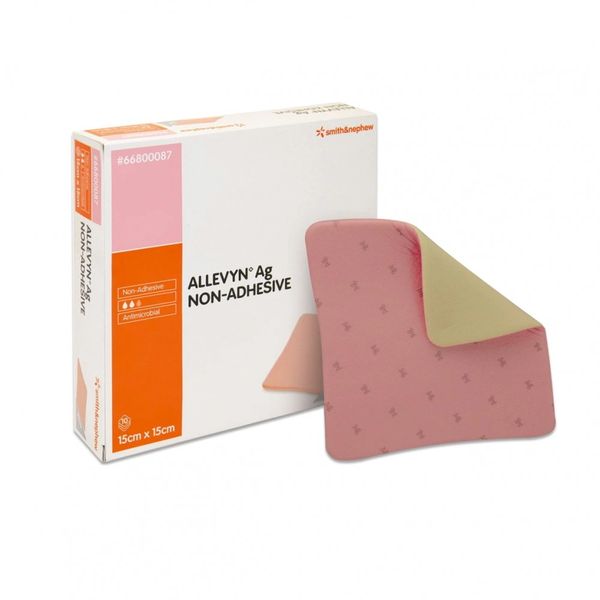 ALLEVYN Ag Non-Adhesive (Smith & Nephew)
Allevyn Non-Adhesive is highly absorbent non-adherent antimicrobial foam dressing suitable for compromised skin that can be cut to suit the patient. ALLEVYN Non-Adhesive has stood the test of time and continues to be an essential for patients and clinicians all over the world.
Unique triple action technology effectively manages fluid to create a moist wound healing environment
Highly breathable top film helps to minimize the risk of maceration to the wound and periwound
Non-adherent wound contact layer means the dressing is suitable for use on fragile and sensitive skin including epidermolysis bullosa wounds
Soft and comfortable for the patient and conformable to challenging body areas
Specific Heel "cup" dressing designed to conform to this awkward area
Easy to apply and remove
Provides an effective barrier function to exogenous bacteria as well as helping to prevent fluid and bacterial strikethrough
Wide range of sizes that can be cut to suit different body contours
Suitable for use under compression bandaging
ALLEVYN Heel can contribute to a pressure relieving protocol when used prophylactically
ALLEVYN Non-Adhesive dressings are indicated for use on:
Shallow, granulating wounds
Chronic and acute exudative wounds
Full and partial thickness wounds such as pressure ulcers, leg ulcers and diabetic foot ulcers
Infected wounds
Malignant wounds
Surgical wounds
First and second degree burns
Donor sites
Fungating ulcers
Oncological Wounds
Epidermolysis bullosa wounds
All of the ALLEVYN Ag dressings combine the physical qualities of the ALLEVYN tri-layer construction with the antimicrobial activity of silver. Proven in-vitro against a broad spectrum of bacteria including antibiotic resistant bacteria such as
Pseudomonas
, Methicillin-Resistant
Staphylococcus Aureus
(MRSA) and Vancomycin Resistant
Enterococcus
the ALLEVYN Ag range provides a sustained action with antimicrobial properties remaining effective for up to 7 days
in-vitro.