ALLEVYN Gentle (Smith & Nephew)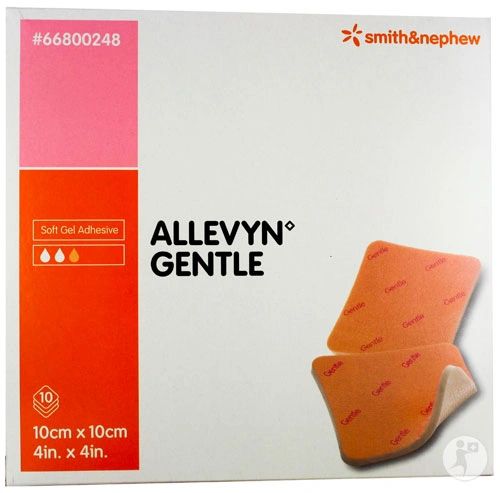 ALLEVYN Gentle (Smith & Nephew)
ALLEVYN Gentle has been designed for when you need some gentle adhesion to give you a helping hand as you apply dressings on delicate areas of the body. The soft gel adhesive is suitable for use on fragile skin and is shown to minimise trauma and pain at dressing changes.
Utilising the ALLEVYN triple action technology to provide effective fluid management ALLEVYN Gentle is also suitable for application under compression bandaging.
Triple action technology provides optimal fluid handling to maintain a moist wound healing environment.
Breathable top film helps to minimise the risk of maceration to the wound and peri-wound.
Provides an effective barrier preventing bacterial strikethrough.
Soft and comfortable for the patient, the dressing conforms to curves and awkward areas.
The gentle adhesive means the dressing is suitable for use on fragile and delicate skin.
Easy to apply and remove, the gentle adhesive holds the dressing in place whilst secondary retention is applied.
Suitable for use under compression bandaging.
Suitable for use on patients with Epidermolysis Bullosa.
ALLEVYN Gentle dressings are indicated for use on:
Shallow, granulating wounds
Seven day dressing
Chronic and acute exudative wounds
Full and partial thickness wounds such as pressure ulcers, leg ulcers and diabetic foot ulcers
Infected wounds
Malignant wounds
Surgical wounds
First and second degree burns
Donor sites
Skin tears
Fungating ulcers